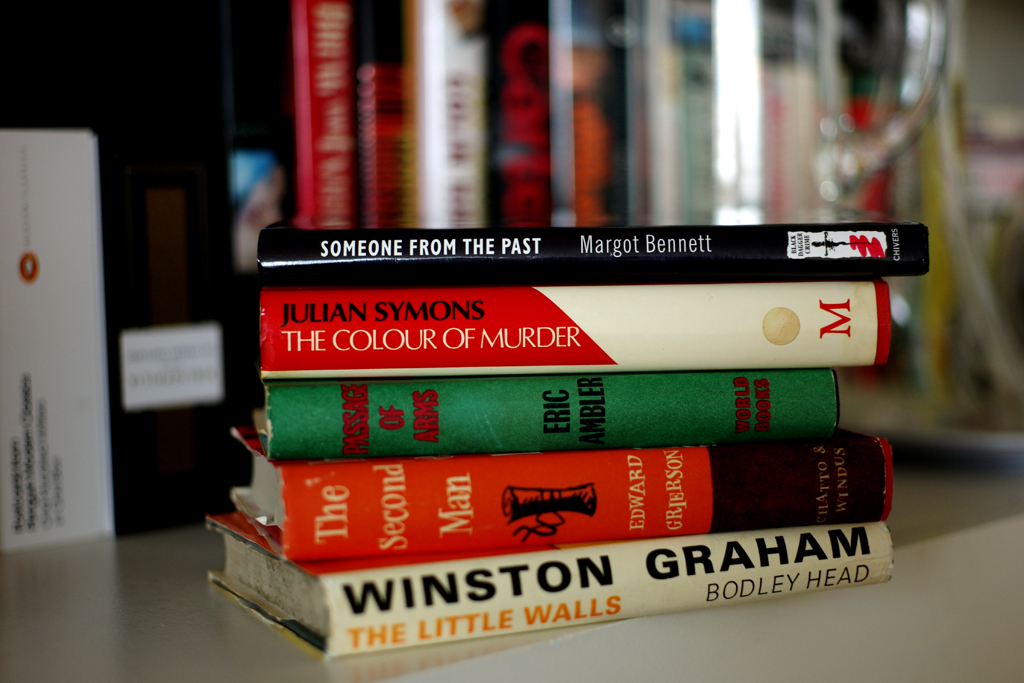 MisterMac and I have had a week off.  We've been basking by a lake.  Sans internet.  Sans phone signal.  Deep joy.
I have returned with Repetitive Kindle Thumb, having clicked thousands of pages as I voraciously consumed book after book after book.  I had forgotten how joyous it was to spend the whole day reading, and the next, and the next …
I set out with great intentions.  The Kindle was brimming with the complete works of esteemed authors, complex contemporary fiction that had slid to the bottom of the TBR pile, megalithic classics that I've been meaning to re-read, biographies of the great and worthy, and a whole pile of books from my 'try a new genre' list.  And they all remain unread.  It was not dissimilar to spending ages agonising between the different salads on the menu and then ordering the big burger with all the extras.  But what a burger it was!
I started with two jolly good yarns from the CWA Gold Dagger award list –The Colour of Murder (Julian Symons) and Passage of Arms (Eric Ambler), both very much of their time, but beautifully written with intriguing plots and a welcome absence of extraneous detail.
Next up was Kolymsky Heights (Lionel Davidson).  In his introduction, Philip Pullman says it's the best thriller he's ever read.  I wouldn't go that far (too much description of boys' stuff, like engines and carburettors, for me, although as we find out, it's all very relevant) but it does have a perfect plot arc, a remarkably indestructible hero, in a Jason Bourne sort of way, and it is so utterly preposterous that you just have to keep reading.  There are three Lionel Davidson Gold Dagger winners on the TBR pile, so much to look forward to there.
I'd been eagerly anticipating The Baltimore Boys (Joël Dicker) and had been saving it for a day when I could read it in one sitting.  I thoroughly enjoyed it.  I loved the way it moved rapidly between 'before the tragedy' and 'after the tragedy', while tantalisingly saving the details of 'the tragedy' until much nearer the end.  But… I'm not sure I can rave about it with quite the same enthusiasm with which I recommend The Truth about the Harry Quebert Affair.
 From Baltimore to Canada and Boundary: The Last Summer (Andrée A Michaud), which if I'm honest, was disappointing.  The first chapter was a real gripper, but then it seemed to lose momentum.  I didn't feel the literary shared grief of a town in mourning, and yet neither did I feel it zipped along at a sufficient pace to warrant inclusion on my 'must-read' crime list.  The new mistress of combining superb writing with suspense is, IMHO, Belinda Bauer and my BB holiday read was The Shut Eye, which did not disappoint.
And then it was time to get serious with The Tobacconist (Robert Seethaler).  Ingredients are 1938 Vienna, Freud and the Gestapo (as well as a Tabak on the sreet where I used to live).  A potent combo, but with that line-up, **spoiler alert** you know it's not going to end well.  More serious stuff followed with The Stars are Fire (Anita Shreve) which twists and turns in all sorts of interesting directions.  I've read a few reviews that didn't like the ending, but I thought it worked really well because it was so un-Shreve like.
And as for the rest of the contributors to my Repetitive Kindle Thumb?  If I were to reveal them all, my literary cred might just take a nosedive, but I will just mention Gun Machine (Warren Ellis), a couple of Jack Reacher (Lee Child) and Five on a Treasure Island (Enid Blyton) … don't even ask.  The worthy and the classics are now 'saved for later'.