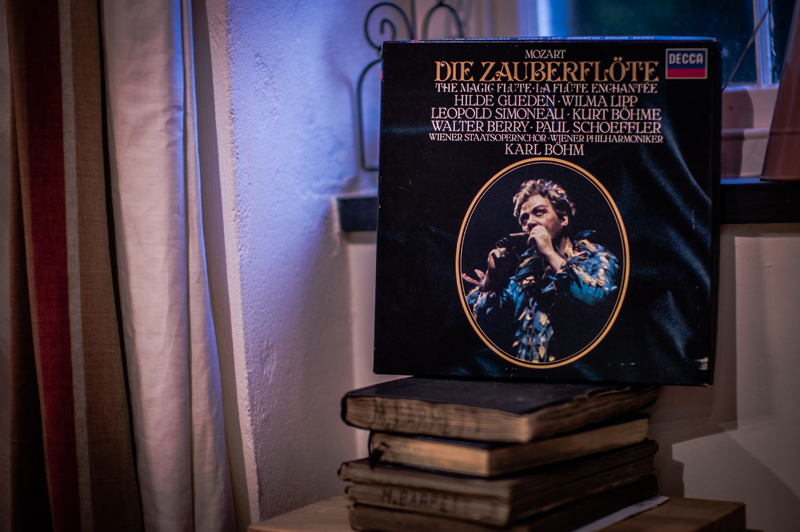 I watched the film Florence Foster Jenkins last night and thoroughly enjoyed it.  Hugh Grant plays himself, as usual (you've got to love him for it though), Wolowitz, from The Big Bang Theory, does a jolly good supporting role as the piano player, but the star of the show is, unsurprisingly, Meryl Streep.  And yes, she does all the singing herself.  Actually, I think her singing was rather too good, as she didn't sound quite as screechy as the recordings I've heard of the original FFJ.   As a tribute to dear Florence – and hats off for trying  – today's choice is Mozart's Der hölle Rache kocht in meinem Herzen, better known as 'that Queen of the Night song'.
My fond associations with Die Zauberflöte are twofold.  The first is that it appears in Hot Stuff (excerpt below) as the opera that made April Callaghan world famous.  Secondly, it reminds me of a fun night out many years ago, when we first met the wonderful Stefan Sanchez and the European Chamber Opera at Icomb Place – a sort of mini-Glyndbourne in the Cotswolds.  One of those rare perfect summer evenings with picnic and opera – all going swimmingly until the senior partner's secretary managed to knock a bottle of red wine over Dad's brand new white dinner jacket.  Having passed it off as one of those things we'd laugh about in years to come, it did take some years and about ten trips to the Dry Cleaner before the laughter started …
My own collection contains three recordings of Die Zauberflöte, where the Königin der Nacht is played by Diane Damrau; Roberta Peters and Wilma Lipp on DVD, CD and vinyl respectively.  Click on the name for the YT video.  I'm having a lot of fun surfing around YouTube and have found some absolute priceless operatic gems that have been saved and will be revealed over the course of the month.  But to be going on with, here are a couple more relating to Florence and her Queen of the Night:  This one is an absolute must for Facebook fans – soundtrack courtesy of Florence FJ, but video is a collection of cats.  And the one here is Meryl Streep as FFJ singing the aria.
Excerpt from Hot Stuff
'You might have heard of my mother.  Her stage name was April Callaghan, one of the finest sopranos of the twentieth century.'
'I certainly have,' he said. 'How sensational to have such a famous mother.'
As a young coloratura soprano in 1957, Callaghan made her name as the Queen of the Night in Covent Garden, a role she made her own for many years.  Other highly acclaimed performances were Thibault in Don Carlo, Rosina in the Barber of Seville, Guido in Rigoletto, the title roles in Luci Di Lammamoor and Norma, but it was the Queen of the Night for which she was really famous.
'I remember as children, if we didn't behave or turn our lights out or go to sleep, she would threaten us with her Queenface, as she called it.  I now realise that it was the contortion required to reach that top F in the Hölle rache.'
'It's almost impossible to sing that without some contortion.  Did you know it covers two octaves from F4 to F6 and requires one of the highest and broadest tessitura?'
'I did actually.  You didn't live with April for all those years and not understand such things.'
They didn't see much of their mother when they were young as she was always on tour (later April told her that it was only a few months of the year, but her memory tells a different story).  She remembers the excitement of her mother coming home and how we she and her brother were allowed to wait up for her.  She always smelled of expensive perfume and cigarettes.  She would never be seen in public without a hat, stiletto shoes and a fur coat – her only concession to this being a coat with a fur stole in July and August.