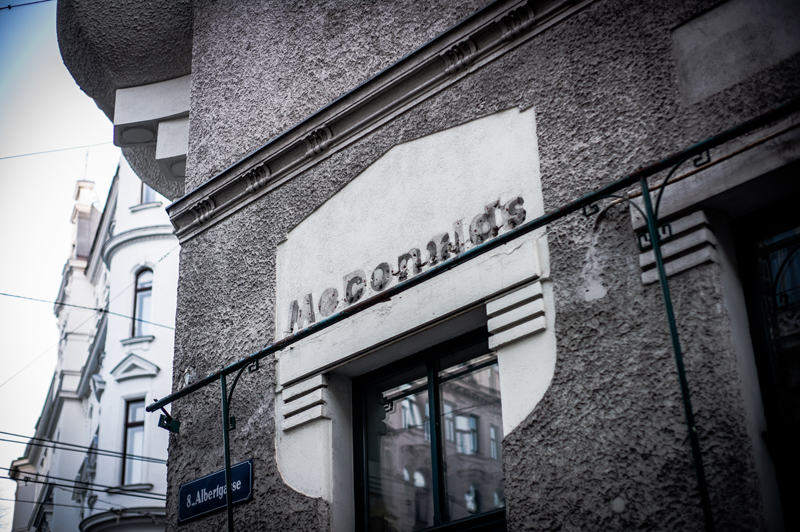 One of life's many disappointments has been the refurbishment of the Walther König Buchhandlung in the Museums Quartier. This has traditionally been one of my first stops whenever I come to Vienna because of the array of interesting and unusual photography books. Many an hour have I whiled away sitting cross-legged on the floor browsing, before buying. A while ago, it moved to a temporary location while the main shop was being renovated. However, since moving into the newly refurbished old space, the photography department has not only shrunk in terms of the space dedicated to the craft, but it now shares a corner with the children's department. Now it might be that management was getting fed-up with parsimonious photographers leafing through the books with sticky fingers, taking a snap on the iPhone and placing the order with Amazon before they've even left the shop – and if this is the case, I can't blame them. The new layout will certainly prevent this because basically, you can't get near the shelves. The photography section is on two corner shelves and in between them is a large table with the newest stock for children. I'm all for encouraging early readers, but children mean pushchairs, pushchairs take up space and the Viennese mothers seem to think that the perfect Parkplatz is in front of the photography section. So instead of leaving the store with a bagful of goodies, I walked out empty-handed because I just couldn't be bothered to try and negotiate my way through the crèche.
Next stop was the lovely Lia Wolf Cabinett on Sonnenfelsgasse. No children's section, no pushchairs, just gentle classical music purring away in the background and lots and lots of new books. The visitor knows straight away that browsing is to be encouraged, no pressure to hurry up or to buy, just a lovely spacious shop dedicated to wonderful books. All that's needed is a comfy sofa and a pair of slippers and you could feel quite at home. Needless to say, I left with a few purchases and the pick of the day is Ghostletters Vienna, edited by Tom Koch.
Ghostletters is the result of a project to record the traces left by letters on shops and facades where the letters have been removed, either deliberately or accidentally. The team asked people to submit locations, then two photographers (Daniel Gerersdorfer and Stephen Deleschal) followed the leads to create the images for the book. There are a number of essays (in German and English), extracts from the correspondence from the finders, cameo appearances of sign-makers, snippets of history and, of course, lots of wonderful photographs. You don't have to live in Vienna to appreciate the wistfulness in these images, and as a book it would be of interest to anyone who is interested in typography, urban sociology or retailing, as well as photography. It was not without a tear of nostalgia that I read: '[The ghost letters] weren't designed by means of a template or with a computer, but rather sketched by hand, translated into their final dimensions, and then painted in place or finished manually with metal.'   As technology is currently driving me potty, this idea of life without computers seems so appealing. So if you're looking to buy yourself a present for Crimbo, why not treat yourself to Ghostletters Vienna. It is available here on Amazon UK, and I'm sure Lia Wolf will take an online order, if you can wait a couple of extra days for delivery.
No tears were shed over my own ghostletter find. The McDonald's on the corner has closed. Before getting too excited, I'll wait to see what's going to take its place, it might be Starbucks …I remember there used to be a fabulous Viennese coffee house opposite the Sacher (on the corner of Kärtnerstr., and Walfischgasse, for those who need the detail) and in 2003, it suddenly became a Starbucks accompanied by a fanfare of promises to introduce thousands of coffee-shops to Vienna, as if the Viennese had never heard of the concept. I'm delighted to see that this Starbucks has now closed, and although the next inhabitant is hardly a traditional Viennese name, at least Zara is European.  A print of Ghostletter McDonald's is also available from me  for a small donation to charity.
And the phantom pen managed to squeeze a few words in during coffee-break, as evidenced here. Much as I rail against technology, sometimes it's fun!
Moribund the Burgermeister from Peter Gabriel by Peter Gabriel