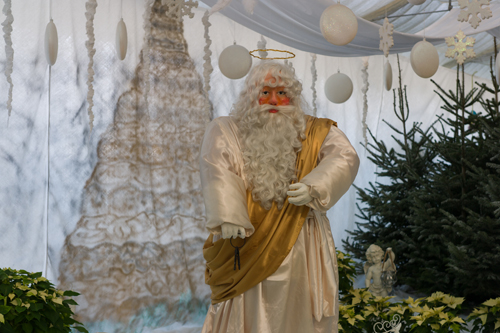 The prompt for today's blog has been provided by Jonathan Taylor. After having seen a TV advert, Jonathan posed a question on Facebook: 'What on earth are curated Christmas Trees?' Now I would have thought nothing further about this, had a quirk of fate not taken me to the Ultimate Curated Christmas Show at Hirschstetten.
Franny and I had a plan for the day, but as she is a keen gardener, she wanted to make a quick detour via the Viennese equivalent of the Parks Department. We both thought that this would be a shopping opportunity to buy some offcuts, seedlings, Poinsettias, seasonal pot plants, evergreens, maybe a job lot of old tools, flower-pots, last season's troughs, past-their-best deckchairs – all the sorts of things that you might imagine the council could be selling off to raise a bob or two for Christmas. We were not at all prepared for what we actually found, which was a parallel Christmas universe, and there was nothing 'last season' about any of it. My first reaction was that the municipal officials had invited Lesley Knope and team to come and curate Christmas.  And it was the word 'curate' that reminded me of Jonathan's question.
A quick google returns two results mentioning 'curated Christmas trees' both blog posts implying that the CCT is something that you find in corporate establishments, where the decorations either match or complement each other, and, as with curating an exhibition, the hanging scheme is carefully planned, the space between the decorations is perfectly measured and everything hangs properly. So our 'throw it up on Christmas Eve and stick a few baubles on it' effort is definitely not curated, but those at Hirschstetten probably are, from the simple pair of ice skates to the OTT lametta.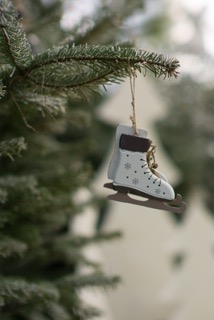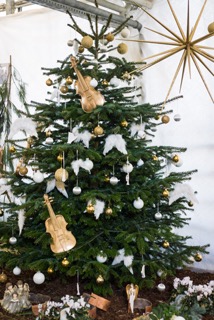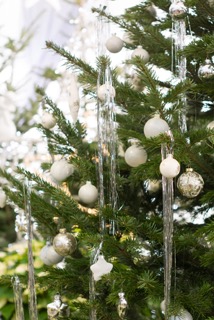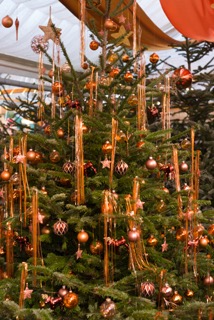 It would appear that having curated the trees, the Parks Department just couldn't stop and the result is, to say the least, … different. When I first spent Christmas over here I always used to admire the way the Viennese did the festive thing with such good taste and style. Decorations from natural materials, real candles on the tree (yes, a tad hazardous, but dead romantic) and little nativity scenes, again fashioned out of natural materials, with animals that looked rather too realistic (cast offs from the zoo maybe?) reminding us of how this whole Christmas thing started. In recent years, standards have declined. It started with the removal of the nativity scene from the Rathausplatz, to appease the non-Christians, and it has culminated in a Las Vegas-does-Yuletide at the Parks Depot.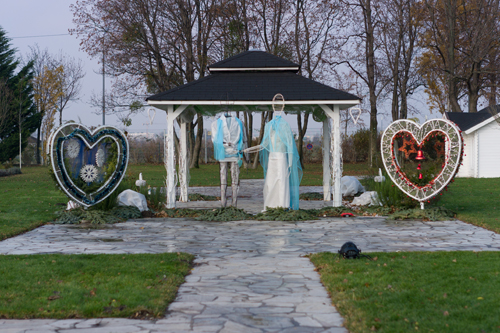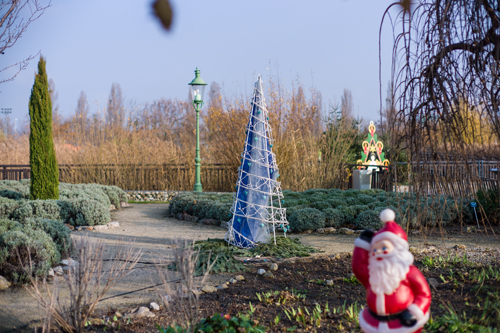 Allow me to share a few examples …
On arrival, the visitor passes by the Wedding Garden. This time of year, the trees are hibernating, but the iron bridal skeletons provide a flavour of what the thing's about.
The path to the main event takes in a few Santas, a curated tinsel teddy, some artificial trees, some ordinary leafless trees enlivened with decorations and a panoply of Glühwein sellers and sausage stands.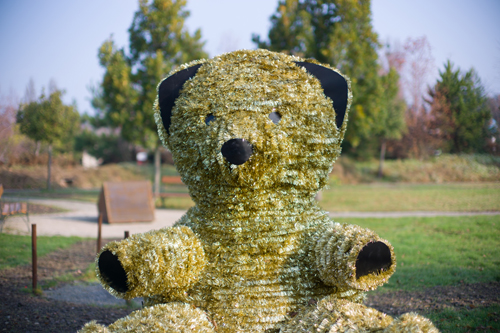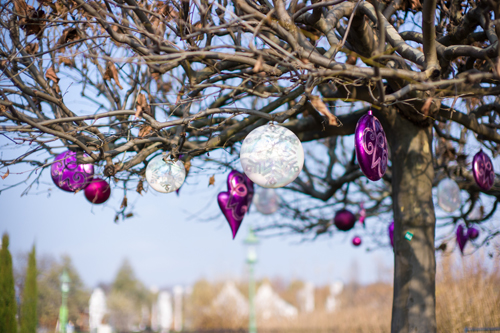 But the best was yet to come … in the hot-houses, where I imagined little saplings and plants eagerly anticipating their transfer to the flowerbeds of the city parks next spring, was a series of what I can only describe as Christmas stage sets, that make our six baubles and dog-eared piece of tinsel look rather humdrum.  If you're looking for inspiration to curate your Christmas, click on the slider below.
And as for the rest of the day? All will be revealed by the Phantom Pen …
Parallel Worlds from Phoenix by Asia