I'm not sure how I missed The Vulgar – Fashion Redefined in London, but as luck would have it, it's moved to the Winterpalais in Vienna. Curated by Judith Clark, the exhibition takes 'a new look at "high fashion"' based on 'Andrew Philips' new definitions of aspects of the vulgar'. The venue lends itself perfectly to the exhibition, notching up the bizarrometer a few points as the sumptuous décor and extravagant costumes try to outdo each other in their over-the-topness. Subtle and understated were definitely not on the invitation list for this show. As the catalogue says: 'The project is about taste', but as the catalogue doesn't say, good taste is only what you have yourself. Disappointingly, photography is strictly verboten and so I can only share this visual feast through screenshots and links.
It's an intriguing collection, a curious mix of old, new, and new-imitating-old. The oldest garment stems from the 18th Century and is the Mantua dress. Thank heavens us girls aren't expected to wear these any more – the jostle on the London commute would certainly be interesting, and swishing round the supermarket without knocking things off the shelves would be impossible.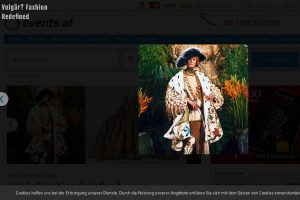 From the 1700s, dial forward a couple of hundred years, as most of the items are from more recent collections, although the historical influences are evident. Sophia Kokosolaki's bridal gowns reference Ancient Greece and Rome; Karl Lagerfeld nods to the 1920s and Henry VIII makes an appearance through an outfit put together for Christian Dior by John Galliano (ermine trimmed attire), Manolo Blahnik (boots) and Stephen Jones (hat).  (Screenshot from events.at)
For me, the highlights of the show are:
Walter van Beirendonck's elephant outfit, which I can only describe as a phallic manifestation of the Mad Hatter (Screenshot from Sotherbys.com). 
Not completely bizarre, but definitely vulgar, is Gareth Pugh's T-Shirt made of pennies; look at it long enough and you begin to taste the copper. I just love the way he's used the coins as found, so there's a mix of shiny, not-so-shiny and I-dread-to-think-where-that's-been.
A little Japanese number from Iris von Herpen, a tiny frock with elaborate folding and stitching that was inspired by sound waves. I can't actually find an online image of the one I liked, but you can get the gist from the other creations on Herpen's website.
And, of course, Christian Lacroix, sweetie. As my F&F know, I'm a big fan, so it was a delight to see a small part of this exhibition dedicated to the great man and his utterly gorgeous creations. I particularly enjoyed seeing his scrapbooks and how he puts together his ideas. Unfortunately, these were under glass, so further browsing was not possible.
Suprisingly, Jean-Paul Gaultier was conspicuous by his absence, which was strange as I would have thought this would have been just up his strasse.
As with all exotic creations in the world of Haute Couture, very few of the exhibits are designed to be actually worn, and certainly not by the likes of us who enjoy the Viennese sausage and cake culture. But if you are tempted, a word to the wise … most of these creations would be totally unsuitable for any occasion where you might need to use the facilities. A trip to the powder-room is likely to end in tears as you stand stark-naked in a pile of faux-fur, sequins, feathers and layers of netting with absolutely no idea of how to put it all back on again.
And for the bookworms, the catalogue is a splendid hard-back book with pictures galore, sketches, notes and interviews with the great and good.