I have a few hours to spare recently, so thought I would start my part of Wiener Blut in earnest.  Like the other participants, I have my section of the map (parts of the seventh and eighth districts), but I'm also going to dabble in a few other areas.  I'm not for one minute wanting to tread on anyone's toes, but I figured it wouldn't hurt to have a few extra streets tucked away in case we need them.
As the project is based on Geoff Nicolson's Bleeding London, albeit 923.1 miles further east, it seemed fitting that I should follow in Stuart London's footsteps and start with North Pole Road – or Nordpolstraße as it's known over there.  Like Stuart, I wasn't expecting 'frozen wastes, igloos, polar bears', although as the Austrian division of Wall's Ice Cream is called Eskimo, I wasn't ruling this out as a potential find.
Nordpolstraße  differs in some respects from its London equivalent – it's much shorter, it's leafy and is a supply road-cum-carpark for the Augarten (a park famous for its pottery and flak towers).  At the time that Bleeding London was written, North Pole Road boasted a pub called, unsurprisingly, the North Pole, which today is a Tesco Metro.  Similarly, Nordpolstraße offers an eatery called Am Nordpol (at the North Pole); in fact, it arguably has two as there is the inevitable sausage stand a mere hop across the main road (also called Am Nordpol).
Am Nordpol styles itself as a Bohemian café-restaurant, so a feast of sausage, cabbage, smoked meat and dumplings was in prospect …
On entering the premises, the diner is confronted with the house sculpture.  It is not uncommon for restaurants to display the fayre of the kitchen in ways to tempt.  Sometimes this is a mini-harvest festival underlining that the produce is fresh, local and organic.  On other occasions, it might reflect the season, so a handful of white asparagus nestling in a rustic basket or a variety of mushrooms, with artistically attached clumps of earth to underline that they're straight from the forest, might be expected.  But in all the years I've been dining in Austria, I have never seen three tins of Heinz tomato soup as the epicurean offering.  Now I like Heinz tomato soup, and according to recent surveys, it contains far more goodness than many of the fancy artisan soups that abound, but I wouldn't say that it is the pinnacle of fine-dining.  And furthermore, it wasn't even on the menu, which offered a far more meaty cuisine, such as head of calf and flakes of stomach (animal unspecified).  My dining companion and I eschewed the offal in favour of a simple sausage, which on reflection was probably offal anyway, but at least it didn't have eyes and a nose.  And as we awaited our supper, we gazed at the art-work, which at first glance looked like an exhibition by the local primary school.  It's only on second viewing that the pornographic nature of the paintings is evident.  And what to make of the platform shoes?  How did they fit with the tomato soup and the porno finger paintings?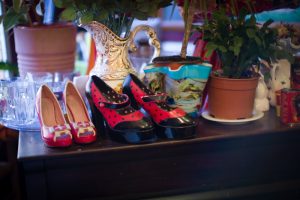 All in all, it was a very odd experience, but judging by the number of diners and the queue spilling out of the door, it is clearly one of Vienna's more popular oddities.
Save
Save