I did say yesterday that despite transport and heating problems, life had not been one complete operatic like misery this week and promised the highlight in today's post.  Well, here it is …
This is my deliciously scrumptious wonderful cake, made by my superbly talented sister-in-law, Wilcey.  It is a library cake for finishing the novel.  I know that I press-ganged her into promising me one, but I really didn't expect it this side of Christmas, given that she has an awesome bakeload for the season.  The cake is a rich fruit cake, with plenty of brandy to keep it moist, loads of glacée cherries – a vastly underutilised ingredient these days IMHO – and it tastes absolutely heavenly.
And, as can be seen from the aerial view, there's even a tiny replica phantom pen!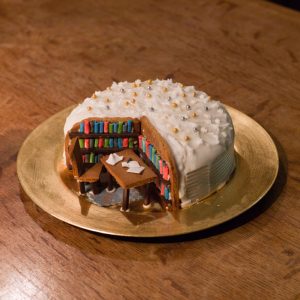 So how to find an operatic track to match?  Cake goes with coffee and coffee goes with Bach's Coffee Cantata, which I remember seeing years ago performed by the marvellous European Chamber Opera.  The cantata is short and sweet, but still classified as an opera.  And like my week, it has a happy ending – although not with cake.
So massive thanks and big hugs to Wilcey xx
And for your next challenge, I did just decide to check whether there are any operas based on cake and, unsurprisingly, I couldn't find any.  What I did find, however, is something called 'opera cake'.  Something for the New Year perhaps?  [Exit stage right before a rolling pin is hurled at me}
Save