Although Paris Photo is an impressive way to see a lot of work in a short space of time, the Grand Palais can be a bit like a zoo, so today was about sampling the edges. I had intended to start with the Mert and Marcus exhibition at Phillips (M&M, BTW, are among the latest recipients of the highly coveted RPS Honorary Fellowship), but got sidetracked.  Phillips Paris is situated at 46 Rue de Brac, but on arrival, the traveller sees that 46 Rue de Brac is a rather delicious boutique.  I meant to pop in and merely ask for directions to Phillips, but one or two items caught my eye … an hour later, the lovely assistant showed me and my packages through the backdoor to the auction house.  Fave pic of the M&M show, definitely Parallel Lines.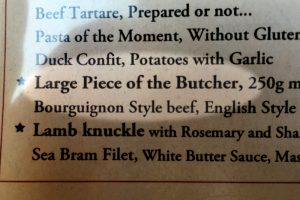 Next stop was lunch, where I spurned the dish of the day – I'm sure he was delicious – in favour of something less cannibalistic, and penned a few more words for the novel.
My travels then took me to the Festival Photo Saint Germain, where 42 galleries are holding exhibitions in the 6th arrondissement.  There are a number of advantages to going off-piste:
The exhibitions are free
The galleries are quieter and so you have the chance to talk to the owner/curator/photographer without interruption or feeling rushed
The area is peppered with all sorts of other galleries and bijou boutiques, so for the aspiring novelist, there's plenty of material to be collected en route.
And, of course, it goes without saying that there are some utterly charming cafes to pause for pastis or café-au-lait.
My favourite show of the day (sadly sans catalogue or book) was, I believe, the work of an unknown photographer. If I haven't lost anything in translation, Les Tatouages du Milieu is a collection of images taken between the 1920s and 1940s by the Paris prison photographer(s), whose task was to snap the distinguishing marks of the inmates as they arrived.  The photographs have that glorious dreamy quality only attainable by being genuinely vintage.  They depict art within art and some of the body decorations are exquisite, redolent of the 1920s posters we used to buy in Athena back in the seventies (not that the posters were exquisite, but you get the drift).
The contemporary go-to for photographs of prison tats is Sergei Vasiliev, but his work is rather a different kettle of poisson from our anonymous French photographer.  Vasiliev's work depicts the tattoos that are applied in prison, whereas the Parisian tattoos had been applied before the inmate took up residence.  As would be expected, Vasiliev's work is far more artistic, since anon was taking record shots, where Vasiliev was being creative.  Check out this image, for example.  It appears sensitive and delicate and yet the tattoos tell a darker tale, since they have meaning.  In this case, the tat-decoder can tell us a great deal about this individual, including that he is a gun – or rather shank – for hire and that he has already committed one murder while incarcerated.
I hear the prison tattoo scene pleading for an appearance in the novel, but it would need to be set in Russia, since that's where the truth really is stranger than fiction.  Electric razors, urine and rubber are the essential ingredients of the process.  And as I am firmly in the method school of novelling, I'd have to be tattooed to be able to write about the experience fully, something I've always wanted, but that my aversion to needles and pain has prevented.  And on the subject of pain, there is no part of the anatomy that is not willing to act as a canvas for the craft of inking  …
Save
Save