I feel like Dorothy in the Wizard of Oz – I seem to have been picked up by a tornado, everything's in a whirl and I'm not sure where I am. I seem to be doing so much, which is all terrifically good fun, but it does mean that I'm not spending as much time behind the camera as I would like. So I decided to leave my desk for a few hours last week and join Jen for a bit of BL gap-filling.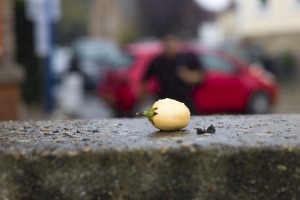 Gap-filling is very different from the normal BL days that we became used to. By the end of the BL project, I had street coverage down to a fine art. Careful planning and a brisk pace meant that I could typically cover 30 streets an hour (obviously depending on their density and length). And it didn't take long to find something of interest in the street. Filling the gaps is much slower as you find yourself having to cover six streets that can be in as many different A to Z squares. Of course, if I just concentrated on the streets we need, I could probably zoom round more quickly, but I can't walk past a photo opportunity, even if the street has already been done.
We started at Snaresbrook station and essentially walked along the High Street to Wanstead, with Jen covering the missing streets in the North Eastern block and me taking those in the Southern block.
I like Wanstead. It's rather trendy with lots of proper little shops, plenty of bars and cafes and everything you could want on the doorstep. There's also a good community 'g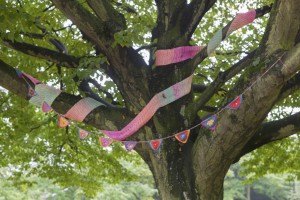 orilla gardening' initiative, lots of green space and Epping Forest is just a hop, skip and a jump away.
Although the light was flat and the sky was grey, there were plenty of autumnal things to snap – fallen shiny chestnuts, crops of fungi and l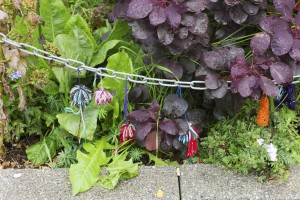 ots of golden leaves. I was rather taken, though, with the knitting and crochet that was adorning the borough. I'm a big fan of yarn bombing – the feminist answer to graffiti – as it's colourful, cheerful and completely non-destructive. As part of its art trail, Wanstead has been encouraging its residents to create yarn-based art for the benches, bollards and bushes. And a jolly good job they've made of it. I think London should have a yarn bombing week next year, when every borough should knit itself cheerful.