Lots of fun, lots of laughs, lots of images … RPS London's Dusk 'til Dawn Shoot

Our Dusk 'til Dawn shoot started on the South Bank with glorious light conditions providing the perfect blue hour. But, despite allowing more than three hours to walk from the Eye to City Hall, there wasn't nearly enough time to take full advantage of all the photo opportunities, which abounded from every direction. The South Bank was simply buzzing with summerlike activity.
The mild weather meant we saw bare-chested skateboarders, people sitting in deckchairs, couples strolling hand-in-hand on the sand (yes, the tide was out and it was like being at the beach)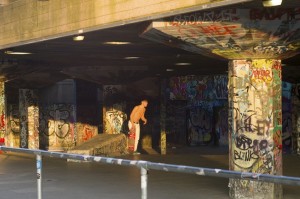 and outside seating areas filled to capacity. At city Hall, the atmosphere was positively carnival, with the pop-up refreshment stands doing a roaring trade against a backdrop of a somewhat suspect version of Hotel California being sung in Spanish, but it all added to the gaiety of the shoot. Those who lingered to shoot Tower Bridge by night were rewarded with it opening. Unfortunately, I wasn't amongst them as I was busy elsewhere contemplating the irony of using even more packaging to package recyclable packaging.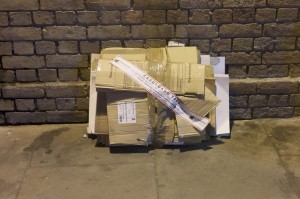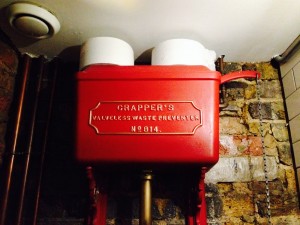 A gentle stroll to the City soon found us at the Polo Bar, which despite the name isn't a bar and has nothing to do with Polo, but is rather one of the best greasy spoons in the capital. It's gone rather upmarket since I was last there, which, thankfully, means it now has a toilet (and a genuine crapper at that) but it still serves the best 24 hour breakfast in town. A sausage sandwich, a builder's brew and a glass of Merlot set us up nicely for the next part of the adventure.
There are some sights that have become favourites on our night shoots, but as Richard Roger's Lloyds' Building is no longer lit at night (or maybe we were just too late) we diverted from our usual route and instead took in the so-called Cheese Grater, which is the Leadenhall Building, also designed by Rogers. One of the great things about late night shoots is meeting interesting people and we were not disappointed in the form of Engineer John, who was working on the building. John provided us with all sorts of snippets of information about the structure, including the nugget that in the event of a fire, part of the ground would raise "Thunderbirds" style, enabling people to evacuate the building safely. Although we just have to take John's word for it, as despite our best endeavours, the night-watchman could not be persuaded to give us a demonstration.
We were also fortunate that our night-shoot coincided with the Sculpture in the City initiative. This part of the City houses several of the artworks including Damien Hirst's Charity, Sigalit Landau's bronze shoes (O my friends, there are no friends) and Ai Weiwei's Forever, which is breathtakingly stunning by night.
Our next main attraction was outside the Bank of England, where we took a number of pictures for the Capturing the City competition – the volume of traffic and the 'high spirits' of the after-work crowd probably gave our images a slightly different slant to those in the Bank of England archive! Actually, to call the revelling and rowdiness 'high spirits' is somewhat euphemistic – I'm sure we all misbehaved in our youth, but I don't remember ever passing-out on the pavement and being unable to get home or that we needed the emergency services on stand-by on every street corner.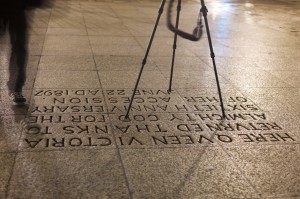 Stopping to collect coffee from the cabbies' favourite all-night caff on Queen Victoria Street, we headed off for St Paul's, where the steps provided a much wanted resting place. I hadn't noticed the engraved thanksgiving stone in front of the Cathedral before. But the footfall of the years has taken its toll and the stone is now slightly worn in places, such that a visitor from Mars might be left puzzling as to why Queen Victoria thanked the 'Almighty Cod' for her long reign.
Well rested and refreshed, we boarded the night bus to Trafalgar Square and set out for Leicester Square. It was now 2.00 am and this is where us girls are reminded about the only negative aspect of all-night adventures. London simply does not have enough public toilets that are open at night. From the puddles on the pavements and the glistening streams pouring out of the doorways, on a weather-wise dry night, it is the way people cope with this problem is glaringly obvious. Occasionally, you come across one of those silvery cylinder things, but despite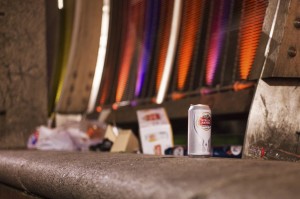 the skirted icon on one of the doors, it is evident that they are really designed for men. For the more discerning amongst us, these cylinders are unspeakably disgusting, so we roused the night porter of one of the best hotels in the area and asked if we could use the facilities, which he very kindly allowed. Much relieved, we re-united with the boys and continued into Soho. Old Compton Street is lively 24/7, but on Friday night it seemed particularly boisterous with a few fights, some serious traffic jams, lots of noise and tons of rubbish. It is a sober reminder of just how much waste we produce, but the bin men were out and the dustbins were soon emptied ready for the next deluge of bottles, cans, disposable cups and unspeakable objects.
Our itinerary then took us to Duke of York Square for the Big Sleep Out – a fund-raiser for homeless charities, where people pay to sleep outside so that they can experi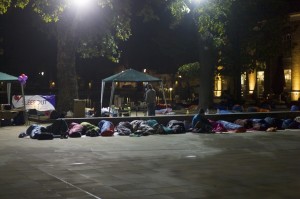 ence what it is like to endure a night on the London streets. We were anticipating some documentary photography as we were convinced that most participants would have been unable to sleep and would be awake, drinking coffee and willing to chat about their shared experience.  So we were somewhat surprised to find that the denizens of Chelsea were …. um … well … sleeping. So we left them purring away under the watchful eye of security guards, and ambled down to Chelsea Bridge ready for sunrise at Battersea Power station.
Against a backdrop of wonderfully clear sky, a new moon, twinkling stars and wispy vapour trails, we consulted our apps, tried different set-ups, various viewpoints and adjusted our tripods until we were all happily lined up in our own perfect spot for first light. Sadly, as daybreak dawned, the sun refused to throw off its duvet of thick grey cloud, so most of us called it a day and headed home. But it really didn't matter – we'd had so much fun, that a lack of a decent sunrise wasn't going to spoil the night.