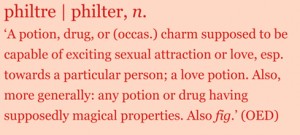 I think we needed magical potions to get through the day, but had to settle for Pinot Noir and coffee instead, both magical in their own way – although hardly L'elisir d'Amore (BTW one of my favourite operas). We're putting together the Bleeding London exhibition and making choices out of 58,000 images is not easy, but I can say that we are going to have an amazing exhibition – some of the pictures are truly stunning. #excited
*For the record, we don't serve filter coffee, which has to be one of the most disgusting drinks ever – although not quite as disgusting as Camp.
Day #139 of the second 365 project, where the daily pic is informed by the OED word of the day.