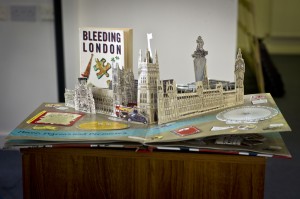 What a wonderful day! We have launched Bleeding London – perhaps the most ambitious photo project in the world ever! RPS London is challenging Londoners to walk and photograph every street in London over the next year – all 73,000 of them. It's called Bleeding London as it is based on the Whitbread short-listed novel of the same name by Geoff Nicholson. I was able to create this interesting still life since (a) I own a copy of the novel* and (b) The Geek Meeks came to visit The Photo Republic this morning clutching the best Bleeding-London-launch-present I could ever want – a pop-up book of the main areas of London. It's fabulously inspirational and very tactile, so thank you GMs! As The Republic is on Aylesford Street, I was able to bag my first BL picture – a street beginning with 'A'. But that's not all … because I chose to open the pop-up at the Parliament page, it provided a link to the word of the day, which is démenti ('An act or instance of contradicting something, a denial or contradiction; now spec. an official contradiction of a published statement', OED) – now how often have we seen these played out in Parliament?
* I actually own quite a few copies. I'm a bit anal about keeping my books in nice condition and the sight of a passage highlighted in yellow makes me shudder and as for biro underlining in library books, well that should be a capital offence. I have never been able to write in books and even when I wrote my thesis, the reference books were full of post-it notes rather than pencil marks. However, I deemed that some sort of annotation was going to be necessary if we're going to issue ideas and directives for Bleeding London. I therefore thought I'd keep my pristine first edition for me and buy a second-hand copy for the project. When it arrived, it was in far too good a condition to annotate and so it went on. So if anyone has an old tatty copy of the book, let me know!
Day #67 of a 365 project, where the daily pic is informed by the OED word of the day.