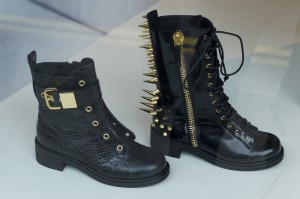 … you can't afford them". The sharp-eyed amongst you will notice that there are no price tags in this window. I pass these boots twice a day, every day. And today, I decided I was going to buy them. The dialogue went something like this:
Me: How much are the spiky boots in the window?
Assistant: Thirteen hundred and sixty pounds. Would you like to try them on?
I am consoling myself with the fact that I like to sit in a curled-up position and had I bought them, I might have done myself a serious injury.