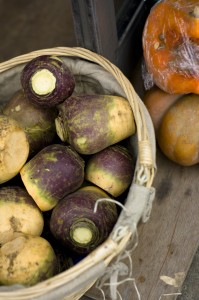 …to go with the tatties to go with the Haggis, for tonight we are having a Burns supper. The language barrier between north and south causes some confusion as the vegetable we call "swede" is known as a "turnip" in Scotland, for the swede is a yellow turnip, as opposed to the white turnip, which we simply call "turnip". The Haggis was, of course, MacSweens amd the whisky was Ardbeg.
Fair fa' your honest, sonsie face,
Great chieftain o the puddin'-race!
Aboon them a' ye tak your place,
Painch, tripe, or thairm:
Weel are ye worthy o' a grace
As lang's my arm.
(Robert Burns)